About Us
TVL Engineers Pvt. Ltd. is a combination of two giants, Sree Durga Fibre Products & S.D. International. We provide quality products in the Wood Polymer Composites (WPC) sector. For the first time in India, we've brought European technology to produce WPC boards. 'Floresta', our brand is a superior quality product. WPC stands for composite panels made from a combination of fine quality polymer with wood dust and lubricants along with other chemicals.
Applications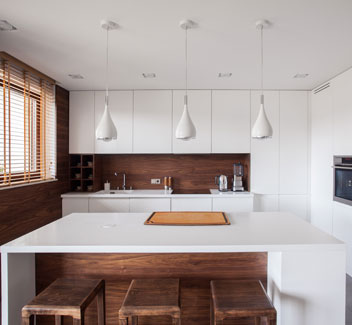 Visually Appealing and Long-Lasting WPC Modular Kitchen
SD International is engaged in the field of manufacturing excellent quality and highly durable WPC Modular Kitchen, custom designed to meet your unique needs and space availability. Wood plastic composite is considered a preferred choice for modular kitchens because they are easily cleanable, termite proof and remains unaffected in humid weather conditions. Additionally, there is no problem of bacterial and fungal contamination with WPC Modular Kitchen. It offer easy maintenance and better durability, and eliminates the disadvantages of wood. We build WPC Modular Kitchen in various designs, which are visually appealing and long-lasting.
Replace Wood with High-Quality WPC Office Furniture
The trend of using wood is fast being replaced with WPC Office Furniture that eliminates several limitations of wood. In addition to innumerable design choices available, WPC boards are resistant to moisture and therefore, there is no possibility of fungus or mould. Additionally, WPC Office Furniture offer good impact resistance and are long-lasting. They are available in a wide range of colours, finishes, shapes and sizes that make them the ideal choice for office furniture. Furthermore, WPC Office Furniture are extremely easy to clean and maintain, and makes the perfect use in commercial space.
WPC Pre-Fabricated Houses for Unique Needs
SD International is a recognised name in the field of providing excellent quality WPC Pre-Fabricated Houses that are manufactured using finest quality wood powder and polyethylene. The pre-fabricated houses can be used in offices, shops and other applications. Our WPC Pre-Fabricated Houses are highly reliable and are known for their strength and durability. The houses we offer are dimensionally accurate and quality tested to provide the best value for your money. Moisture resistance, easy installation and excellent design are some features that make our WPC Pre-Fabricated Houses the best choice for consumers.
Advantages

Environment Friendly
Termite and Borer Proof
Water Proof

Fire Retardant

Eco-Friendly
Nailable and Screwable

Moisture Proof
I am very pleased with the Floresta. I recommend this product to any new house furniture because of it's strength & Durability.
P. Ramesh
We have used Floresta WPC in our project and we are completely satisfied with the quality of the sheets and services of the organization.
K.N. Yadav
The quality of their product and service is excellent.
Raju Mishra